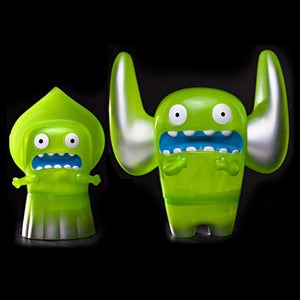 Flatwoods and Mothman Sofubi--Special LATDA Edition
By David Horvath.

This pair of David Horvath vinyl toys were created in this colorway exclusively for the Beyond Ultraman: Seven Artists Explore the Vinyl Frontier exhibition curated by LATDA for the Pasadena Museum of California Art in 2007. In 2007, David Horvath was in the forefront of the art toy movement, and this pair were part of the pantheon of the Horvath characters that included Choco and Minty, Bossy Bear and the various Ugly Dolls that he created with his wife Sun Min Kim.
2021 finds Horvath in the vanguard again turning his characters into NFTs.
Flatwoods Monster is 5.5"H. Mothman (as shown with wings up!) 6.5"H. Mothman's wings and Flatwoods Monster's arms rotate. Flatwoods also has a slight twist at the waist. Sold as a pair only. No returns on artwork.

---
More from this collection